Derek Yaniger's wild and wacky take on mid-century modern graphic art has become a colourful staple on the contemporary lowbrow scene and beyond. Whether it's hot-rods, buxom babes, boppin' beatniks, raucous rockabillies, dungaree dolls or Tiki totems, the ubiquitous Yaniger has them covered. During his 18-year career, he has worked for Marvel Comics and the Cartoon Network, as well as for events like Tiki Oasis, the Las Vegas Rockabilly Weekend and Spain's Wild Weekend. A book of his art, Wildsville, The Art Of Derek Yaniger, was published in 2008 by Korero Books to critical acclaim, and his hip art adorns cool galleries across the world. Check out his website and Mister Retro, to see more of his zany creations. In the meantime, enjoy this exclusive Korero Press interview with the man himself...
Where are you from, originally?
I was born in Little Rock, Arkansas in 1960… I was a ginny-wine corn-fed crumbsnatcher! Yeee-Hawww!
What first inspired you to become an artist?
As far back as my think box will travel, I can remember diggin' art… I was a kook for all the cartoon art that surrounded me – my dad's jazz albums, mom's recipe books, Mad magazine, Rat Fink model kit box art… My young brain soaked all them scribbles up like a hungry sponge! Even though I was yet to get my mitts on a drawin' stick, I was already an artist. Once I realized that I could make with the art bit my own self, I was GONE!
Were there any particular artists, designers or genres that inspired you back then?
Since I grew up in the 60s, it was "retro" art that really flipped my wig! Of course, it wasn't "retro" way back then, but it was that look and feel that really planted itself in my brain bucket. I really dug the Mad magazine art (Don Martin, Jack Davis, Harvey Kurtzman), the Disney shorts from the '50s, the jazz album art of Jim Flora and Gene Deitch. And lastly, but certainly not leastly, the endless parade of unknown artists that scratched out way cool art for everything from cookbooks to juice glasses to sleazy men's magazines… I dug it all, ya'll!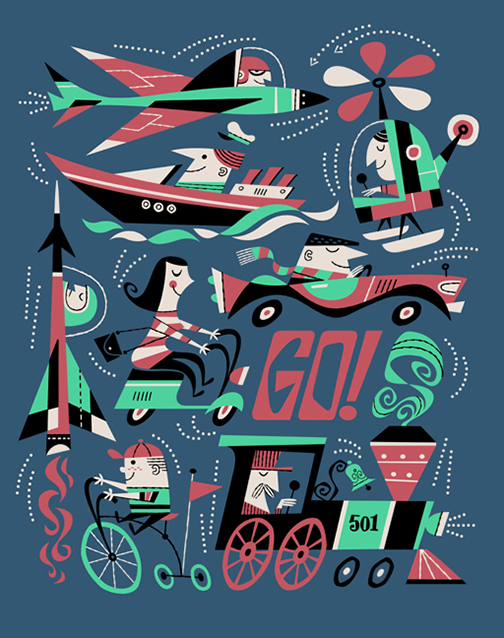 Tell us a bit about your art/design background, and the early days of your career.
Snagged a BFA in Illustration/Design at the University of Georgia, then made a beeline to Atlanta and started scribblin' out all kinds of horrible ad art for agencies. Also did a heap of doodles for Turner Entertainment. Work was plentiful, and the bread was there, but I didn't dig it no-wise! I worked up a whole mess of comic book art and landed a gig with Marvel Comics. After about five years, that bit became a bring down so I gave it the boot and started sketchin' for Cartoon Network. Five more years, and I decided I wanted to dance to the beat of my own bongos, so I gave the Cartoon grind the heave-ho and began scratchin' out art with a nutty retro riff. Cats n' Kittens really dug it the MOST, so I haven't eyeballed the rear view since!
Your art is very popular on the resurgent Tiki scene – how did you first get involved with Tiki?
My switches get flipped by ALL things with a vintage vibe, so it was only natural that I would dig Tiki! Many moons ago I sent a CD with a hefty batch of Tiki-inspired scribbles to Otto Von Stroheim (the Grand Poobah of the world famous Tiki Oasis event ). He laid the gig on me and I've been rollin' out art for the Oasis every year since 2002! Crazy, Pops!!
How would you describe your art?
Retro Rip-Off… Vintage Vandalism… Mid-Century Misappropriation. It's really just a koo koo nutty nod to the illustration styles of the 50s and early 60s. Like little time machines designed to jet you back to a renaissance of design and modern art influence. A long-gone world of boozers, beats n' tiki freaks, sophisticats n' fine felines, swingers, flingers, and ring-a-ding dingers!!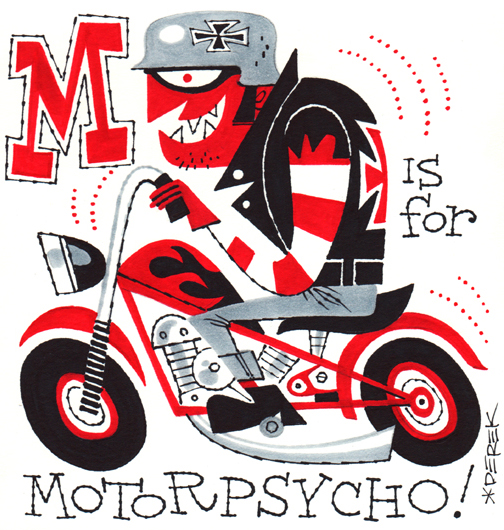 Is there a project that you're particularly proud of?
I'm always most proud of the gig that I just finished, whatever it is – and then a very few tick-tocks later, it's forgotten and I'm on to the next one. I ain't much for pattin' myself on the back. Always tryin' to keep my coupe in the "D" gear, don't ya know?
Can you give us a brief description of your work process?
EVERYTHING starts with pencil scratchin' paper. Some days it just falls out onto the page, and other days I gotta drag it out tooth n' nail!! I draw and re-draw and re-draw like mad, Dad! Once I get it all worked out in pencil, I scan it into my Dell Devil Machine and play around with colour. Once that's did and did I move on to final art. My scratchy line style is done by hand – to get that effect I drink lots of coffee and draw while riding in the back of an old Ford with bad shocks.
You've obviously been involved in a lot of fun and interesting projects during your long career. Is there anyone you're interested in working with, or for, that you haven't yet?
I have been one REALLY lucky cat over the years! I've done just about everything I've ever wanted to do. I just kinda take it as it comes my way; I plant my feet and dig the beat, ya know? Sure, there are some galleries out there that I would love to land a gig with, and some big wig fatcats that would be a gas to scribble for, but all in all I got no gripes whatsoever. My dream all along was to plant myself in a spot where I could blow my own nutty riff and print my own foldin' green and I'm theresville, Daddy-O!
Any future projects/exhibitions/books that we should be watching out for?
These days I'm hoppin' like my jeans are full of jumpin' beans!! This month alone I'm starting scribbles for my 13th Tiki Oasis print, a new mug design for Tiki Farm, 12 inch single art for Southern Culture on the Skids, and finishing up the last of the art for an upcoming Korero Press release entitled Kiddie Cocktails. Future gigs for this year include a nice big show at the Outre galleries in Australia, as well as a show in Houston, Texas. Beyond that, there's a solo show in the works for next year in Brazil. Damn! I got no more time to jaw, Paw! I gotta start scribblin' like… no-tomorrow style!! Dig ya soon, Baboon!