Over a 30-year career, acclaimed comic creator, illustrator and artist Roberto Baldazzini has created a sexual and surreal world of the imagination. He first came to prominence with the publication of Stella Norris in 1984. From 1995 he began focusing on erotic comics and gained a reputation for his black and white line work. Today, as his reputation grows, he is just as likely to be working on his next gallery show as his next comic strip.
Could you tell us about your passion for comics? How did it begin, and what has made it so enduring for you?
I have always been motivated to tell stories, which has led me to explore comics and their possibilities. Things I imagine materialise in my drawings and become something "real".
I love to draw people, especially women. The pleasure of drawing, spending hours and hours pencil in hand, is an intellectual and physical passion that I feel. It motivates me to keep on exploring and developing.
After which it is important for me to have contact with the paper. There is a pleasure in leafing through magazines and comics, one after another, discovering amazing and unknown worlds.
Please explain to us what 'fotoromanzi' are and, and how they have influenced you.
When I was a child, I was lucky enough to find a complete set of the magazine Grand Hotel which I loved. I used to trace the images and this helped me to learn to draw. In Grand Hotel there were not just photo stories but also the stories illustrated by Walter Molino, who drew incredibly beautiful women. When I got older, I discovered the photo stories for adults, like Killing, Genius and Supersex.
How would you describe your work to somebody if they've not seen it before?
A graphic research: the desire of stylistic perfection. In my drawings, comic pages or paintings, the balance of lines, tones and shades, and blacks and whites are decisive. The form of a line is fundamentally sensual and erotic. A window into a fetish world, bizarre and peculiar; both for the stories told, and the drawings.
How would you describe the relationship between art and comics?
It's difficult, but possible. I like to think that comics are art, and they undoubtedly are. Comics rely on imagination and imagination stands at the basis of the creative process. My comics are soaked with art.
Could you tell us a bit about your new book Mondo Erotica?
Mondo Erotica is a summary, extended and well defined, of my 30 years of activity around erotic imagery. I was very glad when Yak proposed the project to me. Mondo Erotica is a way to observe my work and understand it. It's a concentrated collection of my best artwork. It highlights the creative paths I have travelled. Nicola D'Agostino has been the right person to help interpret my work in the text. My ego has definitely grown to see my work gathered together in one volume in this way, but I also give credit to the fact that I did not neglect a single day, for I always believed in what I was doing and the goals that I set. Mondo Erotica is letting me glimpse things about my work I did not fully realise. It's showing me alternative creative journeys to take.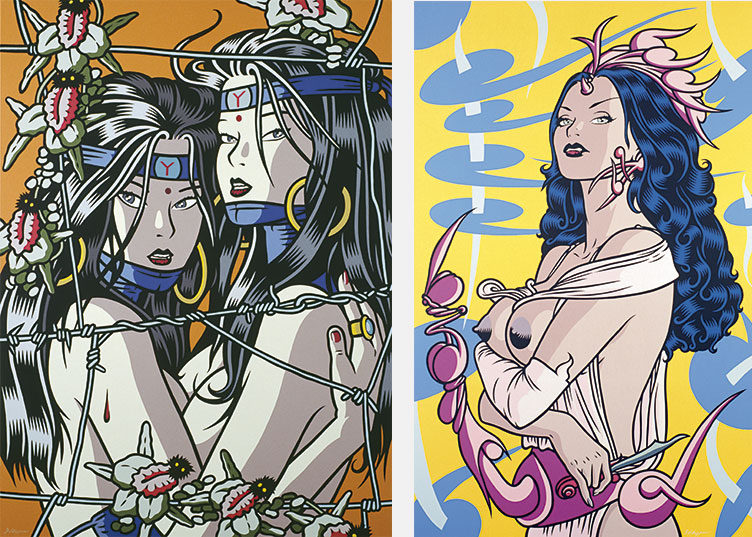 Is there any one project that you're particularly proud of?
Of my finished projects, I rate Casa HowHard, Ines: the Pneumatic Girl, L'inverno di Diego, and De Dieux et Des Hommes with Jean-Pierre Dionnet. But there are elements in all my projects I consider important that are worth discovering.
Has censorship ever been a problem for you? Have you ever encountered any opposition to the erotic nature of much of your work?
Nope, but I'm sure others have had problems. I believe creativity is a way to free oneself, but I do paradoxically self-censor. I don't like to make my reader too uneasy. I get a lot of appreciation, some of it from well-known people. I flatter easily.
Do you have a theory about the strong tradition of erotic comics in Europe which seems to be lacking in the English speaking world? Why do you think this is?
There is a strong Italian tradition in particular, of which I am an exponent. Eros is a key to better self-knowledge: a way to consider different worlds and explore ideas. Art has always evoked beauty and sensuality. And why shouldn't comics do the same? Just like the orient, Italy has a richness and warmth that seems lacking in the English speaking world which can be a bit dour and colonial.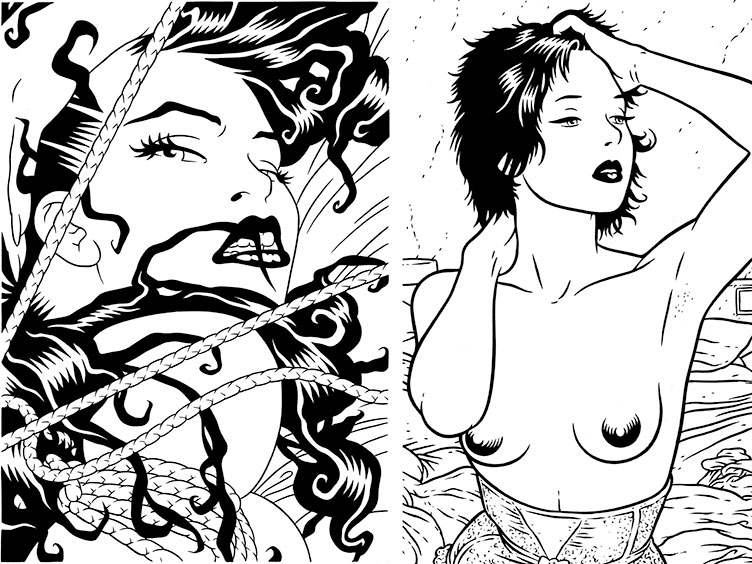 You have worked with people like Franco Saudelli in the past. Is there anyone else you would like to work with?
I would give names, but it would be like making a commitment. When the time is right, I will ask them directly. I have already asked Milo Manara.
Please tell us about any future projects/exhibitions/books that we should be watching out for?
I need to complete an illustrated fresco dedicated to the Sultane; I'm in the middle of a 200 pages story for Sergio Bonelli Editore, called Hollywoodland; I need to finish the le quattro stagioni della resistenza project of which L'Inverno di Diego is the first volume; I'm compiling all the Stella Norris stories into one book; but most of all I am looking forward to having in my hands a copy of Mondo Erotica. Can't wait to leaf through the pages.
Available books by Roberto Baldazzini Mondo Erotica