California native Jim Phillips is a living legend amongst the art aficionados of the surf and skateboard scenes. Since his first piece of work appeared in a 1962 issue of Surfer Quarterly magazine, Phillips has created literally thousands of surf, skateboard, sticker and T-shirt designs featuring his trademark artworks, including the legendary, ever popular "Screaming Hand" graphic. Here at Korero Press we're stoked that Jim has not only written the intro to one of our recent publications – Surf Graphics – but has also kindly taken time out of his busy schedule to do this exclusive interview for us.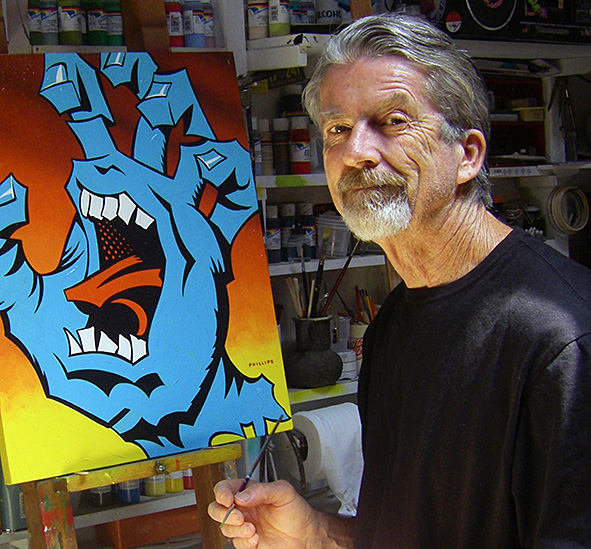 Where are you from, originally?
Santa Cruz was my first home – my parents moved here when I was six. My dad was a US Army captain, so before that we constantly moved from base to base. In 1951 he was sent overseas and he asked my mom where she wanted to live. The family story goes that she was blindfolded and told to point at a map – voila, Santa Cruz! My bios say I was born in San Jose, but only because my grandfather's brother was a doctor; we never actually lived there.
What first inspired you to become an artist?
Boredom. Moving around like that left me out of the loop for friends, and those were the days before TV, so I entertained myself by drawing characters like the ones in the newspaper comic strips. My grandfather noticed my cartoons and gave me a small book by the Speedball Pen Company titled Pen Tips on Cartooning. Then I was on it. When I was eleven, my mom enrolled me in Ralph Grey's children's art class and I was profoundly inspired by his work. He was a gifted commercial artist and sign painter whose cartoon characters rode on delivery trucks all around town, and still do to this day. To me, that was a lot cooler than oil paintings in a stuffy gallery. I guess that's why skateboards became so appealing to me.
Were there any particular artists, designers or genres that inspired you back then?
Boy, how! Let's just say the greatest comic book and animation artists who ever lived. But to name just a few: George Herriman (Krazy Kat), Pat Sullivan (Felix the Cat), and many other newspaper comics artists; Carl Barks, my childhood hero who was a long-time Disney artist (Donald Duck), and, well, most of the work of Disney Studios. Then there are other animators such as the Fleisher Brothers (Popeye); the masters of the Golden Age of Comics – Harold Foster (Prince Valiant), Burne Hogarth (Tarzan), Alex Raymond (Flash Gordon). There are too many other great artists to list. Eventually, my older sister turned me on to the original Mad EC comics led by Harvey Kurtzman and his wacky artists, Bill Elder, Wally Wood, Jack Davis, and a few others. These artists were so great there was no way to ever compete, but I was nonetheless content to amuse myself in that direction with pen and ink on paper.
Tell us a bit about your art/design background, and the early days of your career
In a nutshell, my first published work – at age 17 – was a surf woody riding over a hill to a perfect point break – a winner in Surfer magazine's surf car cartoon contest announced in 1961. I went on to submit cartoons to several other surf magazines, and that established me as the go-to surf artist in town. I created the logo for Rich Novak's Solar Surfboards, and for Novak's half-ownership of Olson Surfboards. Eventually, when the urethane wheel revolution hit skateboarding in the early 70s, I was the first to be called for Rich's landmark Road Rider Wheels, which led to Santa Cruz Skateboards; the rest is history!
How would you describe your art?
Technically, my pen and ink art is referred to as Graphic Art, but to me it is still cartooning – the most lowbrow of all illustrative work, which itself is the lowest form of two-dimensional art. My obsession with pen and ink in a flagging industry was looking futile until skateboarding came along, needing silk-screened images printed on wood boards. It was a marriage made in heaven.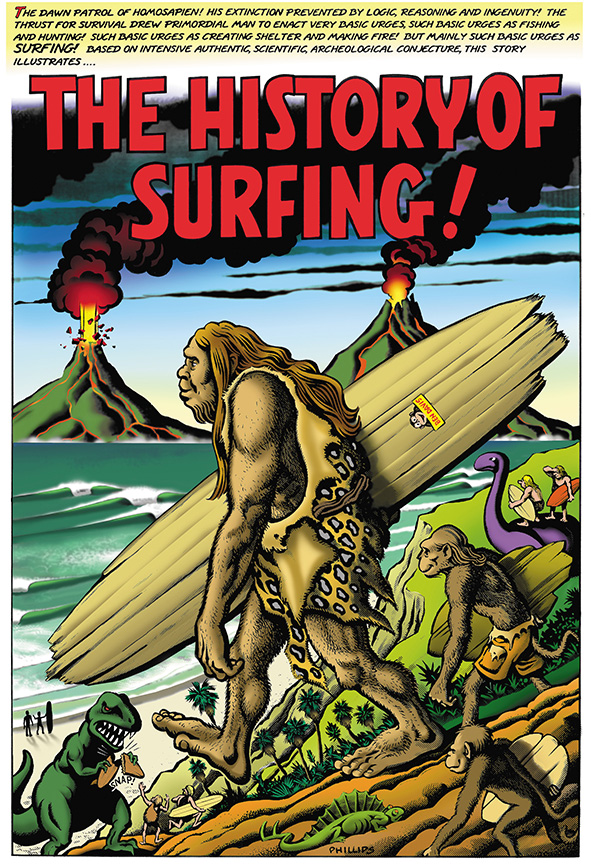 Can you give us a brief description of your work process?

I still sketch my keylines with a pencil and ink, with only a few differences such as the elimination of "live" ink now that some pens like the PITT have evolved to such high performance. The biggest difference is in how I do colour: instead of making blue-line plates or using Rubylith film, I do my colourwork on a Mac in Photoshop, where I have a palette of millions of colours.
Is there a project that you're particularly proud of?
Getting this far alive! Seriously, I know you mean one of my creations, and you might already know that the Screaming Hand has become an international gigolo, partying around the globe. Actually, he's become quite jaded with the high-life and all the attention and has now become a yawning hand. He still looks like Screaming Hand, but stickers never make noise so you can't tell the difference.
What gives you the most artistic freedom – the skatedeck, snowboard or surfboard markets?

99 percent of my fans are skateboarders, and that's just fine with me. I've worked my cartoon ass off in all kinds of industries, but somehow skateboarders are the ones who really get it. Society has cast skateboarders down to the lowest rung of the social ladder, and that just happens to be where I live.
You've obviously been involved in a lot of fun and interesting projects during your long career. Is there anyone you're interested in working with, or for, that you haven't yet?

If I was able to go back to each of the studios of my comic art heroes and submit myself to them for a period as their apprentice, I would be willing to work under them for free if they provided sandwiches. That would be my never-ending life.
Any future projects/exhibitions/books that we should be watching out for?

In February 2014, I will be presented with a lifetime achievement award from Transworld Magazine for my contribution to skateboarding, and there's a very nice retrospective for me coming up this spring in more than 72 countries at once. The multinational sponsor is one of the largest outside of the skateboard industry, and can't yet be revealed, but I'm sure that everyone will see it.
Books by Jim Phillips