Emanuele Taglietti is an Italian comic book cover artist known for his outrageously eye-catching artwork. In the course of his acclaimed career in the 1970s and 1980s, the golden age of fumetti, he painted more than 500 covers for such books as Zora the Vampire, Sukia, Mafia, and 44 Magnum. Today he lives in his home town of Ferrara in Italy, and even though he's retired he can still be found with his brush in hand.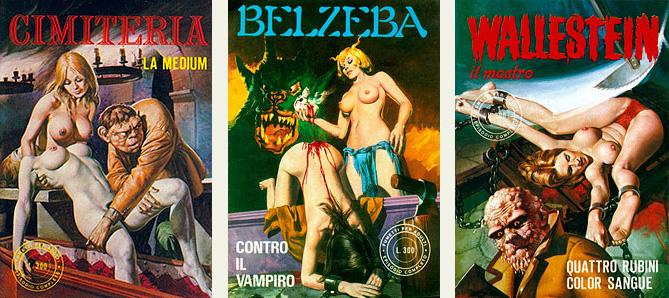 Let's start off with a little bit about your background. Where are you from, etc.?
I was lucky enough to have a father who was a painter and decorator. As a child, I used to help carry his materials, so I soon became familiar with colours and brushes. He worked on several films by Michelangelo Antonioni, painting scenery. I used to visit him at work and soon became keen on set design; later, I moved to Rome to study set design at the "centre of experimental film-making", after which I ended up working on numerous films.
What first inspired you to become a comic book artist?
I worked in the movies as an assistant art director and an interior decorator. I also drew concept art to help directors visualize scenes. However, I soon tired of working in the film industry and wanted to leave Rome. Comics were very popular at the time and I wondered if I would be able to become an illustrator. The thought of working from home and sending jobs to the client once completed appealed to me. My good friend Dino Leonetti, who used to work as a production designer on set, was now a comic book artist, and he thought I would make a good cover artist. He gave me a list of three publishers in Milan and I made an appointment to see all three. The first on the list was Edifumetto. The meeting proved to be pivotal. I left the movie industry, went back to my home town, Ferrara, and started my career over. To begin with my figure drawing wasn't up to scratch, but Edifumetto had confidence in me and plenty of patience.
Edifumetto was founded by Renzo Barbieri in the early 1970s. Their offices were in Redi, Milan. When you entered there was a lounge which was always full of painters and designers clutching their work. The company gave work to a lot of people. It was almost a school where people could hone their art. In Ferrara I had my own studio and welcomed artists wanting to learn, and it was the same in Dino Leonetti's studio in Rome. It was a good time to be in the industry; talent was nurtured, then, unlike today.
Some of your work is risqué, even now. Were there problems with some of the imagery?
Censorship was a problem. A number of books were seized on the news stands. But a big overseas market meant there was plenty of work.
Were there any particular artists, designers or genres that inspired you back then?
It was my friendship with Dino Leonetti which opened up the world of illustration for me. He introduced me to the work of numerous artists, such as the movie posters of Averardo Ciriello and the magnificent paintings of Frank Frazetta.
How has your work process evolved since you first started designing? Can you give us a brief description?
From an early age, helping my father with murals, I learned to use tempera, and as a teenager I learned the technique of oil painting. While studying set design in Rome I used to sell oil paintings of Venetian landscapes to help my poor finances. In the 1970s, I started using acrylics for my illustration work. I had to produce up to 10 covers a month. I would choose my photographic reference, start painting in acrylic and add finishing touches with tempura. The finished artwork was 25 cm x 36 cm. For complex covers I would receive a brief in the post, otherwise it was over the phone. The covers where I could let my imagination run riot were often the best. The writers had to churn out 30–35 stories a month – it was a tremendous race against time. The comics were often just bought for their cover.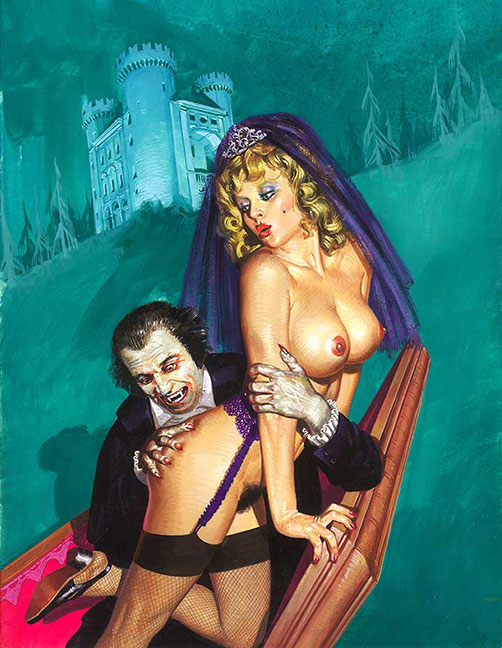 Is there a project that you're particularly proud of?
Not a project as such, but I'm proud of the fact that I've helped many talented artists at the beginning of their careers. For me, this is a big satisfaction.
Any future projects/exhibitions/books that we should be watching out for?
I tend not to think about these things. I delegate to others the commitment to these initiatives, but right now I'm working on a book of my art with Korero Press, which is going to be amazing. I also hope to be doing some new comic covers for a company called Annexia.
Emanuele's blog